The information below is from 2019.
2020 information will be coming soon 
Winter Camp is not too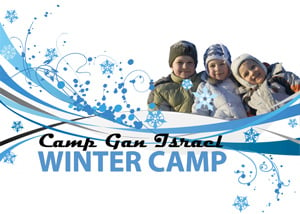 far away. If your children enjoyed our Summer Camp, they will love our Winter Camp!
Every day of GAN IZZY IN THE WINTER will be filled with an exciting activity or field trip outside of the camp, plus crafts, games, stories, sports and more.

 Dates:
coming soon

Time:

9:15 - 3:30 p.m. 

 

Ages:

Boys: ages 5-8 Girls: ages 5-11
Rates:
$260 (all 5 days); $60 (daily).
Early Bird: Sign up before Nov. 20 and receive a 10% Discount.
Location:
Lubavitch Chabad of Northbrook 


2095 Landwehr Rd. Northbrook, IL 60062
Trip schedule:   
Monday, December 23 ~ Pump It Up
Tuesday, December 24 ~ Chanukah Wonderland @ Northbrook Court
Wednesday, December 25 ~ Bowling
Thursday, December 26 ~ Snow-tubing @ Wilmot Mountain
Friday, December 27 ~ Carnival & Show
Registration:  
Registration is done using Ultracamp.
We are sure that you will easily familiarize yourself with the system and enjoy all of its benefits.
Please take a minute to read these helpful pointers about the UltraCamp system before you register. 
As soon as you are redirected, you will be prompted to create an account. Once your account is created the basic information will be stored in the system and you will simply need to add children to your account. The information will be stored in the system for future years.

**If you already have an account from the summer session, you do not need to create a new account.** 

Once your children who are attending camp are added to your account you can go to the reservations page and sign them up for camp.

The system will automatically calculate the price. The base price for each day will show as $60, and the appropriate discounts will automatically be applied. 

There is a required health form for each child. We recommend that you fill it out with the registration, but you do have the option of logging back into your account and doing it at a later time.

Please note that after you have completed registration, you can always log back into your account to schedule your own payments. 
If you have any questions about the registration process you can always contact us.
Please click here to complete your UltraCamp registration.
Questions? Want more Information? Call or email our Camp directors,
Schneur & Ester Scheiman (847) 345-6406 ~  [email protected]