Register for Winter

Camp 2012 !
Winter Camp is not too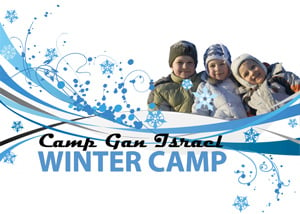 far away. If your children enjoyed our Summer Camp, they will love our Winter Camp!
Every day of GAN IZZY IN THE WINTER will be filled with an exciting activity or field trip outside of the camp, plus crafts, games, stories, sports and more. 
 
Sign up now! 
Limited space available. 
  
          
 Dates: Dec. 26 - Jan. 4 
week 1: Wed. - Fri. Dec. 26 - 28 
week 2: Mon. - Fri. Dec. 31 - Jan. 4 

Time: 9:15 - 3:30 p.m. 
  
Ages: Boys: ages 5-8 Girls: ages 5-11
Rates: $350 (8 days); $225 (5 days); $50 (daily). 
Early Bird: Sign up before Nov. 20 and receive a 10% Discount.  
** New Location:  Northwest Suburban Chabad ** 
16296 Aptakisic Road  Lincolnshire, IL 60069

For full trip schedule, Click Here.
For the parent handbook, click here.
Questions? Want more Information? Call or email our Camp directors,
Schneur & Ester Scheiman (847) 345-6406 ~ [email protected] 
 

Looking forward to seeing a lots of familiar smiles at our Winter Camp!