Register for Winter Camp 2017/2018!
Winter Camp is not too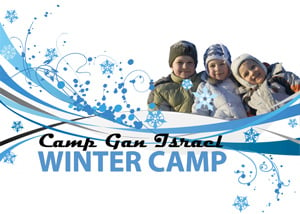 far away. If your children enjoyed our Summer Camp, they will love our Winter Camp!
Every day of GAN IZZY IN THE WINTER will be filled with an exciting activity or field trip outside of the camp, plus crafts, games, stories, sports and more.

Sign up now!
For help with the registration system, please click here.

Dates: Dec. 26 - Dec. 29 2017, January 2 - January 5, 2018
Time: 9:15 - 3:30 p.m.
Ages: Boys: ages 5-8 Girls: ages 5-11
Rates: $350 (8 days) $225 (5 days); $50 (daily).
Early Bird: Sign up before Nov. 20 and receive a 10% Discount.
Location: Lubavitch Chabad of Northbrook
2095 Landwehr Rd. Northbrook, IL 60062
Trip schedule coming soon

Questions? Want more Information? Call or email our Camp directors,
Schneur & Ester Scheiman (847) 345-6406 ~ info@GanIsraelChicago.com